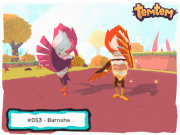 Luma Temtem have different coloration compared to normal Temtem. Additionally, they have a Fresnel effect, particle effects, and a bright trail when running in the overworld. Upon entering combat, Luma Temtem emit a bright glow.
Chance
[
]
The chance to encounter a Luma Temtem in the wild is 1 in 10000. They will always be generated with at least three perfect SVs. The other four stats have a range between 20 and 50, with exception of SPD which is ranged between 1 and 50. These rules do not apply to bred Temtem which inherit the stats from the parents. With one or two Luma parents, the chance for Luma offspring increases to 1 in 1000 and 1 in 100 respectively.[1]
Untamed Temtem with a catch rate of 0, i.e. all third-stage evolutions, cannot be captured and will not appear as Luma. Note that Luma Temtem will also not appear shortly before a server reset or maintenance, from the moment the associated notification icon appears.
Luma Hunting Methods
[
]
Temtem Radars
[
]
Temtem Radars can be earned from Dojo Master rematches. Each device targets a specific Temtem evolutionary line, which is indicated on the item tooltip. When activated, some Temtem will appear physically in the overworld and approaching them will trigger a battle. Defeat or capture the Temtem of that radar encounter to increase the chain. Running from a Temtem during a radar encounter or catching/defeating a Temtem in a non-radar encounter will break the chain and destroy the radar.

Radars allow for the chaining of Temtem encounters of that species to increase minimum Single Values and Luma chance as seen below:
After the chain reaches 50 encounters, Temtem in the special encounters will start appearing with a minimum SV value of 10
Reach 100 encounters and the minimum SV value will be 20
Reach 200 encounters and the Luma chance for those Temtem will be multiplied by 5
Reach 300 and the Luma multiplier will be 10
Note: Temtem Radars break after 400 encounters or at the end of each week and players will need to get a new one.
Saipark
[
]
Saipark features two Temtem that change each week. These Temtem can have an increased Luma chance compared to normal hunting. Typically, Saipark features increased Luma chances every other week.
As of Early Access 0.6.15 this chance can be from x2 to x4.
Note: Temtem Radars do not function within, and therefore cannot be stacked with, Saipark.
Luma Temtem
[
]
Trivia
[
]
Luma Temtem are inspired by the concept of Shiny Pokémon from the Pokémon franchise.
Although the first references to Luma Temtem were in the Founder and Guardian Kickstarter reward tiers, the concept of Luma Temtem was not fully fleshed out until Update #5 was published on the 5th of June, 2018.
Prior to Early Access 0.5.12, the chance to encounter a Luma in the wild was 1 in 6000.
From Early Access 0.5.12 until Early Access 0.6.12, the chance to encounter a Luma in the wild was 1 in 8000.
From Early Access 0.6.12 onwards the chance to encounter a Luma in the wild is 1 in 10000
The old Luma Egg Ratio from eggs breed before those changes dont apply anymore. All eggs where both parents are Lumas have a chance of 1 in 100 now.
Refrences
[
]